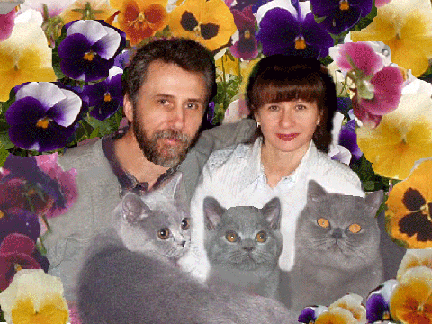 We have been British Shorthair breeders since 2002. Our cattery is registered with CFA and TICA associations but since 2006 we have been showing at CFA exclusively. Unlike some others breeders we donít have a big and crowded cattery. Our cats and kittens live with us in our home like members of the family. We strive to produce healthy kittens meeting highest breed standards. At the same time we select for breeding not only the most beautiful but also the most friendly and outgoing cats. That is why our kittens are affectionate and good with other animals and kids. Our cats come from famous US lines. Our senior stud is CH Pussukus Dandie whose father, Grand Champion Veralee's Baddesley of Pussukus, had a very long and successful career at US cat shows.
Dandie has already completed his show career in the rank of Champion because he is not particularly fond of cat shows:-). His son from CH Maou Simple Charm, GC DandyBlue Lord Hudson is on the contrary a big show fan. He became Breed Winner (Best British Shorthair) in CFA 2007 show season.You can find his show pictures at the "Cat show" page. His other son Uncle Sam II became third best British Shorthair in 2009 show season.
We follow these three simple principles in managing our cattery:
The first point is to provide the best care for our cats. They have only high quality food and cat supplies, all medical treatment they need. Our house is spacious enough for our cats to feel comfortable. Our kittens are healthy, happy and used to peopleís hands.

The second point is to breed cats according to highest CFA standards. To achieve this we avoid breeding cats that have not earned at least a champion title. It means that our kittens only come from cats that were recognized by world famous experts.

The third point is our dedication to the original blue variety of the breed. Occasionally we are going to have other colors but we just love that color and we hope to find many people that will share this passion with us.